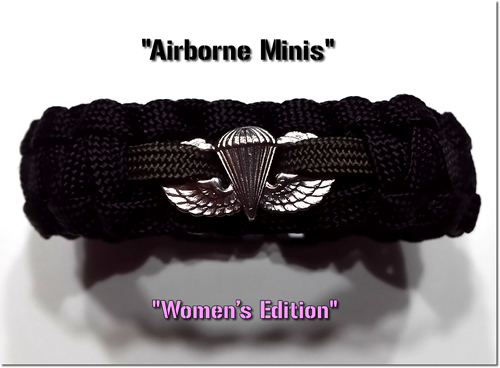 - The Wemon's "Classic Airborne" Bracelet is dedicated to those who have earned their Parachute Wings, and want something Smaller than our Standard Bracelets.
(This Paracord has the inside cordage removed to make the overall bracelet smaller in size.)
- The Black/Polished stainless steel shackle is a load bearing and is guaranteed to never rust or break.
- Wings – All our wings are Authentic (MIL-SPEC) wings, they are the real deal! Mini Dress wings are used on this model, available in Chrome and Silver-Oxide.
- All our products have our Warrior Guarantee.
- You can hand wash our Bracelets with warm water and soap or detergent.
- All our Bracelets are Hand Made in the USA by Veterans!
Available Options (Some Options may not be Available on all Models)