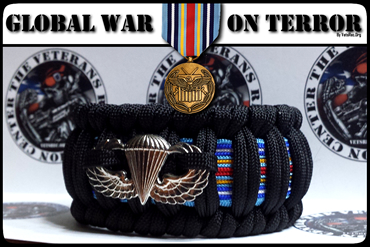 - This "SPARTAN" Bracelet is Dedicated to those who have been awarded The Global War on Terrorism Expeditionary Medal (GWOTEM).
- 50% of our sales on these bracelets will be donated to pow-miafamilies.org.
- Here is a link to our YouTube video that explains how to change your VetsRec SPARTAN Wings
- Choose from the Colors available to customize your Bracelet, all Paracord is MIL-SPEC 550 lbs paracord.
(This is not the same paracord you see sold in most stores. This is the same Paracord used for military parachutes. It is the real deal.)
- The Black/Polished stainless steel shackles are load bearing and are guaranteed to never rust or break.
- Wings – All our wings are Authentic (MIL-SPEC) wings, they are the real deal!
- All our products have our Lifetime Warrior Guarantee.
- All our Bracelets are Hand Made in the USA by Veterans!
Available Options (Some Options may not be Available on all Models)
NOTE: Please remember that this is a Donation driven Organization, meaning your purchase of anything on this site is a DONATION, in return we will send you the Item(s) requested when you Donated.